INDUSTRIAL GASES

Industrial gas is a group of gases that are commercially manufactured and sold for uses in other applications. These gases are mainly used in an industrial processes, such as steelmaking, oil refining, fertilizer, semiconductors, etc.,. They may be both organic and inorganic, are produced by extraction from the air by a process of separation or are produced by chemical synthesis, and will take various forms such as compressed, liquid, or solid.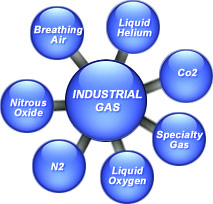 Acetylene
Argon
Argon Mixture
Breathing Air
Carbon Dioxide
Compressed Air
Helium
Helium/Argon/CO2
Hydrogen
Hydrogen Mixture
Liquid Argon
Liquid C02
Liquid Helium
Liquid Nitrogen
Liquid Oxygen
Nitrogen
Nitrous Oxide
Oxygen
Specialty Gas
MEDICAL GASES

RIMG brings you accurate and reliable medical device gases that are recognized industry-wide. Only the best raw material, state-of-the-art analysis, and presentable packaging are used to prepare these gases for suppliers and end users in the healthcare industry alike.

All products are manufactured in strict adherence to USP, I.P specifications, and stringent quality standards. All manufacturing facilities are registered with the DCA, and are conveniently located to ensure fast and reliable delivery to our customers.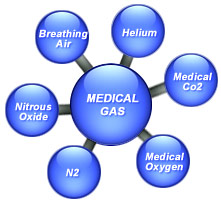 Breathing Air
Carbon Dioxide
Lung Diffusion
Nitrogen
Nitrous Oxide
Oxygen
Blood Gas
Specialty Blends